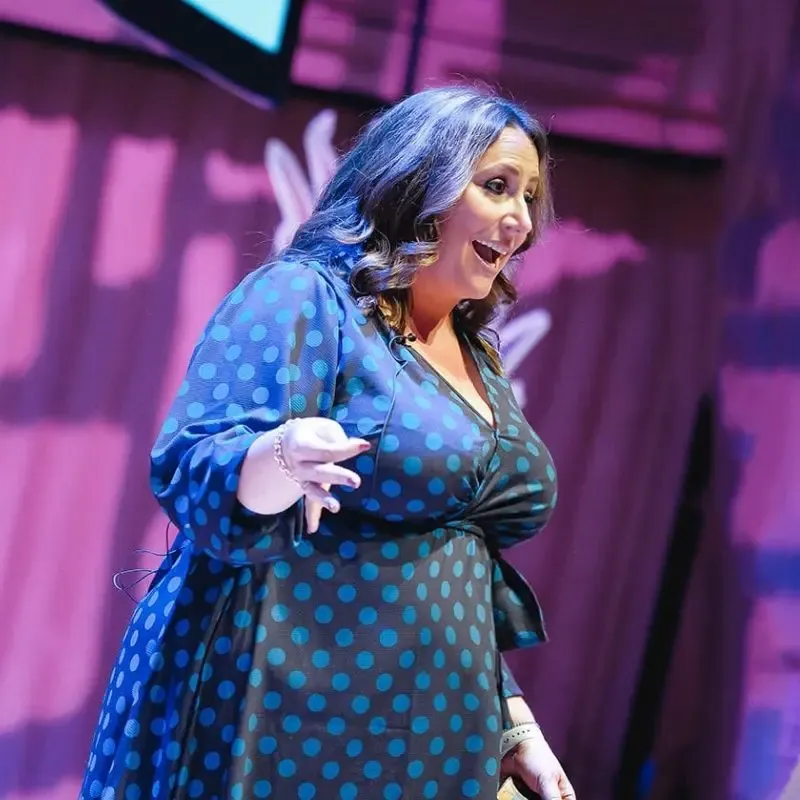 DO YOU EVER..
➡️   Feel unsure about your abilities to take your business to the next level?
➡️   Hesitate to charge what you're really worth?
➡️   Avoid putting yourself out there and marketing your business?
➡️   Compare yourself to competitors and doubt your value?
➡️   Shy away from sharing your expertise and putting yourself out there?
IF SO YOU ARE NOT ALONE!
We can all have that little inner critic in our head.
Telling you that you're not good enough or ready yet. That you don't have enough experience compared to others. That who do you think you are to be an expert or charge higher prices?
This feelings of doubt and hesitation are so common among business owners. But they can seriously hold you back from taking the necessary steps to grow your business and reach more clients.
It keeps you playing small, frustrated, and anxious when you should be feeling capable, energized and confident.
BUT IT DOESN"T HAVE TO STAY THIS WAY!
You have so much untapped potential. With the right mindset shifts and skills, you can finally silence that inner critic.
Imagine instead feeling confident to:
😍  Share your story and expertise without fear
😍   Increase your price 
😍   Put yourself out there more visibly
😍   Get more ideal clients 
😍   Go after those big audacious goals!
Anything is possible once you build your confidence. 
Join me for Build Your Business Confidence workshop designed specifically to help you:
Identify and overcome your inner critic & limiting beliefs
Own your authority and value as an expert
Price your offers confidently
Put yourself out there through marketing and outreach
Feel unstoppable in your ability to attract clients!
THE DETAILS 
Time: 12.30pm - 3.30pm
Date: Monday 17th June 2024
Location: Copthorne Hotel, Newcastle-upon-Tyne
Address: The Close Quayside Newcastle upon Tyne, United Kingdom NE1 3RT
Hi i'm Teresa
Online Business Owner, International Award Winning Speaker, TEDx Speaker and international Bestselling Author.
Through smart strategy, clever marketing and mastering my mindset, I am now recognised alongside some of the world's digital marketing thought leaders and am widely regarded as one of the UK's leading marketing influencers. 
I have spoken on stages around the world including a TEDx stage and co-authored a book that hit number one in 9 categories across the UK, US and Australia.  
And alongside all of this I have created a successful 6 figure online business and have a community of amazing and passionate business owners that I help to create a business and life they dream of!
PAY IN FULL 
£120
Join me for this 3 hour workshop and lets Build your confidence and become unstoppable.
(limited spaces, seriously)
GRAB YOUR SPOT NOW
PART PAY
3 payments of £40
Join me for this 3 hour workshop and lets Build your confidence and become unstoppable.
(limited spaces, seriously)
GRAB YOUR SPOT NOW
Diane O'Connell
Your Dream Business was an amazing day of serious conversations in a supportive environment. I learned so much about myself and that I am not alone in trying to build a business. The event approached topics from different angles which really enhanced the learning experience. I highly recommend Your Dream Business to those who want to dive deep and feel safe doing it.
Sooz Frear
Teresa takes to the time to get to know each of the attendees so that the advice she gives is bespoke to them when a question is asked. This is invaluable as we all know one size does not fit all! I'd like to thank Teresa for opening my eyes to another way of thinking and also to areas when I need to work on personal things too.
Louise Goncalves
It was fab spending the day with you and absorbing your positivity and expertise. It was also great to meet other women who with all the same fears, challenges and vulnerabilities who were doing amazing things with the businesses - they were normal women with the same challenges as me doing great things, and that in itself was the kick up the bum to show that I can do it!